Paul Robeson Plaza Dedication
Friday | 03:00 PM
Voorhees Mall (behind Ford Hall)

The Paul Robeson Plaza unveiled on Friday honors Rutgers' most acclaimed alumnus, a distinguished scholar, athlete, actor, and singer who left a legacy of global activism for civil rights and social justice. The dedication ceremony included performances, readings, and remembrances that celebrated Robeson's achievements and contributions to the world.
The open-air plaza, which features eight black granite panels detailing the story of Robeson's life, stands in a prominent location next to the Voorhees Mall on the College Avenue Campus at Rutgers–New Brunswick. The plaza was envisioned and championed by the Class of 1971 for its 45th anniversary, with strong support from the Rutgers African-American Alumni Alliance (RAAA), Inc. Read more about the dedication.
Watch the dedication and unveiling of the Paul Robeson Plaza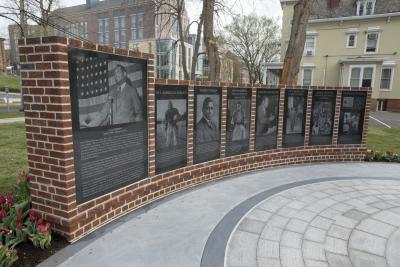 Paul Robeson Plaza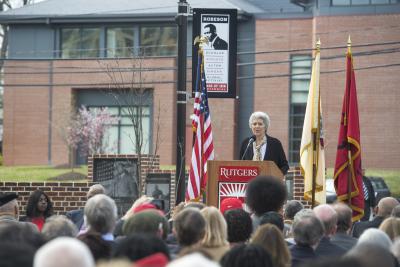 Susan Robeson speaks at the Paul Robeson Plaza dedication.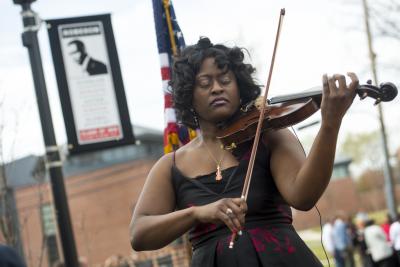 Department of English postdoctoral associate Melanie Hill plays violin at the Paul Robeson Plaza dedication.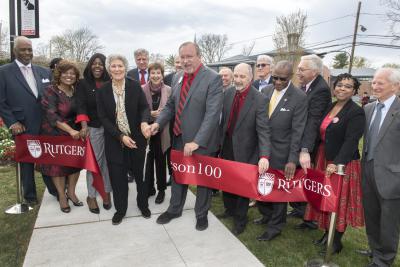 Alumni and members of the Class of 1971 Robeson Plaza Planning Committee join Susan Robeson and Jim Savage (RC'71 with scissors) in the ribbon-cutting ceremony.